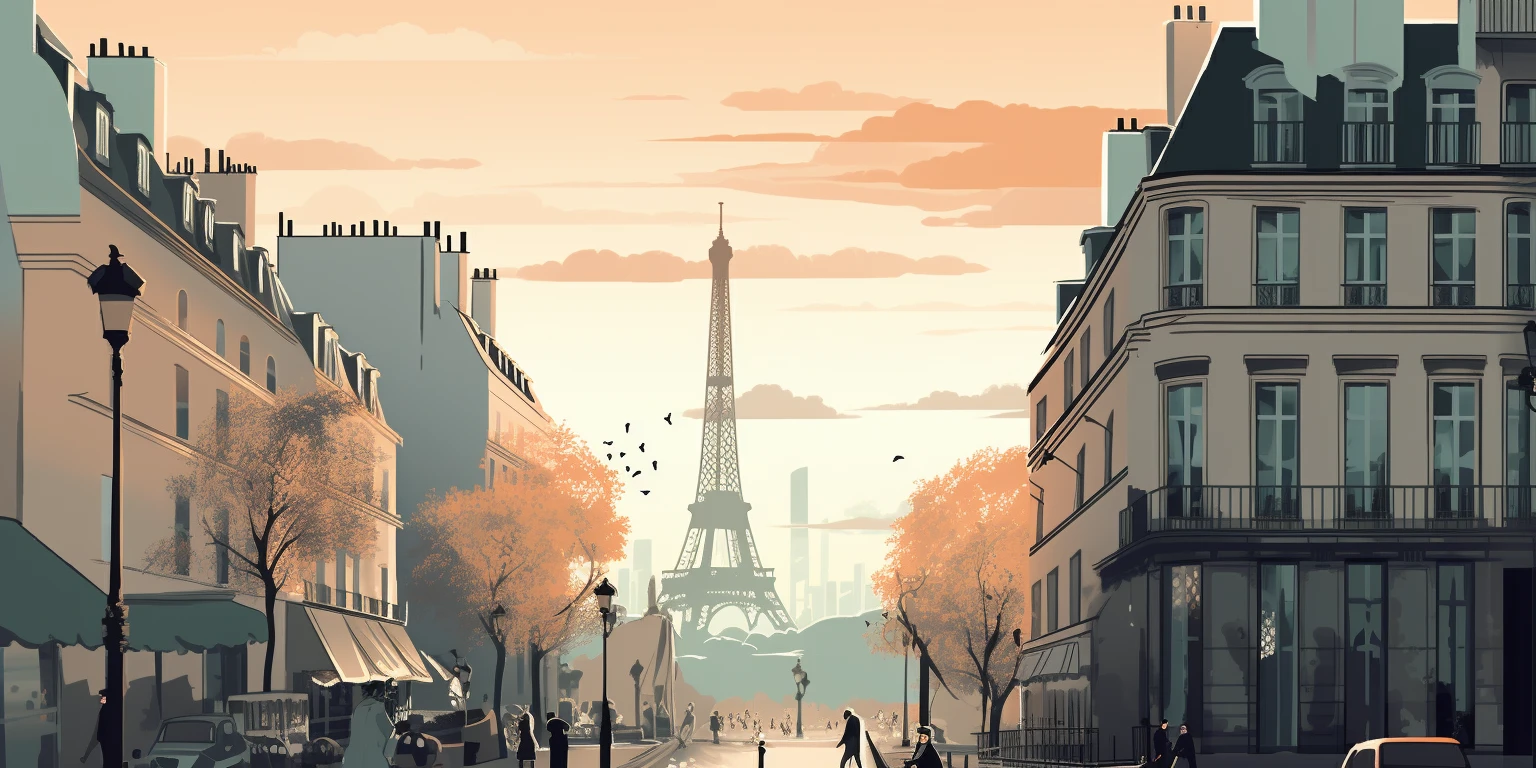 The very best 12 nightlife spots in Paris, France
In the beautiful city of romance, Paris, where berets and baguettes flourish, an enlightening article guides nocturnal adventurers to the finest nightlife haunts. Unleash the dancing diva within at Le Baron, a boisterously hip nightclub where even the Eiffel Tower would sway to the infectious beats. For an elegant experience, savor Le Comptoir Général, a quirky bar adorned with vintage treasures, where the bartenders could effortlessly mix a potion of sophistication and charm. And if you're craving an otherworldly adventure, be sure to step into La Machine du Moulin Rouge, where you'll find yourself twirling amidst a surreal cabaret extravaganza that would make even Salvador Dalí raise an applauding eyebrow.
Save destination
1. Concrete
Port de la Rapée, 75012 Paris, France
Ah, Concrete in Paris, where good vibes meet good beats in the quirkiest of settings. Nestled in the 19th arrondissement, this club is no ordinary dancefloor – it's a musical haven under a highway, where neon lights and concrete pillars set the stage for unforgettable nights. Prepare for a sensory overload as you sway to the tunes, occasionally wondering if you're grooving more to the pounding bass or the sound of cars rumbling overhead.
Learn more
2. Rex Club
5 Bd Poissonnière, 75002 Paris, France
Welcome to the legendary Rex Club in Paris, where the music is so electrifying, it can make your heart skip a beat! This iconic nightclub has been the go-to spot for those seeking to dance their socks off since 1988. Get ready to boogie all night long on the laser-filled dance floor and savor the eccentric mix of house, techno, and electro beats that will leave you thinking you've entered a musical time warp.
Learn more
3. Badaboum
2 bis Rue des Taillandiers, 75011 Paris, France
Welcome to Badaboum, the quirkiest spot in Paris where good times and shenanigans collide! Located in the vibrant 11th arrondissement, this lively venue is the perfect blend of a trendy nightclub, a sophisticated cocktail bar, and a delightful haven for questionable dance moves. Brace yourself for an explosion of eclectic beats, fabulous Margaritas, and an atmosphere that's as wild and unpredictable as French grammar.
Learn more
4. Social Club
142 Rue Montmartre, 75002 Paris, France
Welcome to the Social Club in Paris, the ultimate hangout for social butterflies, trendy millennials, and all those looking to show off their dance moves without face-planting in embarrassment. Nestled in the heart of the city in the vibrant neighborhood of Le Marais, this club promises an unforgettable night filled with questionable decisions, irreplaceable memories, and maybe even a few less-than-impressive attempts at flirting with the local hotties. Prepare to get lost in a maze of dimly lit rooms, each with its own surprises and hordes of eager patrons ready to spill their drinks on your expensive shoes. With an eclectic mix of music ranging from hip-hop to electro-pop, and enough bass to rearrange your internal organs, the Social Club ensures you'll be dancing like nobody's watching, or at least like everyone else is too drunk to notice. Be aware, though: the Social Club has a strict dress code, meaning you'll need to ditch those comfortable sneakers for something more fashionable. So, put on your most uncomfortable shoes, pump up your energy levels, and get ready to party the night away in a place where even the most reserved individuals can temporarily morph into wild party animals.
Learn more
5. La Féline
6 Rue Victor Letalle, 75020 Paris, France
In the charming depths of Paris, nestled between the streets of the 5th arrondissement, lies the captivating café known as La Féline. If cats had their own chic retreat, this would be it. With an ambiance that whispers "meow la vie," visitors to La Féline are greeted by a delightful furry clan, who nonchalantly drape themselves across antique furniture, seemingly unaware of their esteemed stature as the café's unofficial mascots. Cat lovers, prepare to don your cat attire and indulge in a steaming café au lait while feline eyes bewitch you from every corner.
Learn more
6. Andy Wahloo
69 Rue des Gravilliers, 75003 Paris, France
Welcome to Andy Wahloo, the quirky and vibrant gem hidden in the bustling streets of Paris. This eccentric watering hole greets you with its mismatched yet strangely appealing decor, combining the flamboyance of an Arabian bazaar with the chic ambience of a Parisian hideaway. Whether you're sipping on their exotic cocktails, chuckling at the witty murals on the walls, or immersed in the eclectic playlist, one thing is for sure - you'll leave pondering if Alice fell down the rabbit hole and ended up at a whimsical Moroccan tea party.
Learn more
7. Le Comptoir Général
84 Quai de Jemmapes, 75010 Paris, France
Le Comptoir Général in Paris is like stumbling upon a hidden treasure chest in a city of glittering diamonds. This eclectic den of wonders is more than just a hipster hangout; it's a living proof that pirates and artists can coexist. From vintage furniture to odd trinkets collected from distant lands, this place is akin to stepping into Ali Baba's cave, where you can sip an ethically-sourced coffee while wondering if Indiana Jones might pop out at any moment.
Learn more
8. Le Carmen
34 Rue Duperré, 75009 Paris, France
Le Carmen in Paris is like stumbling upon a hidden gem buried amidst the lively streets. This quirky establishment, nestled in the 9th arrondissement, is part salon, part dancefloor, and all-around fabulousness. With its vibrant red interiors and chandeliers that may or may not double as disco balls, Le Carmen will transport you to a world where Bohemian vibes and extravagant soirées effortlessly coexist.
Learn more
9. Wanderlust
32 Quai d'Austerlitz, 75013 Paris, France
Welcome to the city of love, croissants, and questionable fashion choices! Wanderlust in Paris promises to whisk you away to a place where romance blossoms faster than a Frenchman's mustache. From the iconic Eiffel Tower, which stands tall and proud like a diva in stilettos, to the charming yet labyrinthine streets, where getting lost is practically a rite of passage, be prepared for an adventure that will leave you craving baguettes and bragging rights. So, grab your beret, your broken French phrases, and let's paint the town red, white, and tres chic!
Learn more
10. Nüba
36 Quai d'Austerlitz, 75013 Paris, France
Nüba, nestled upon the stunning rooftop of Cité de la Mode et du Design, is a charming oasis for the hipster nomads of Paris. With its effortlessly cool ambiance and panoramic views that rival a selfie stick's wildest dreams, Nüba is the place to see and be seen. This rooftop haven boasts a delightful mishmash of artsy fartsy vibes, scrumptious food trucks offering gastronomic delights, and a hopping dance floor that will make even the most uncoordinated look like a Parisian dancing king.
Learn more
11. Chez Moune
54 Rue Jean-Baptiste Pigalle, 75009 Paris, France
Tucked away in the lively neighborhood of Montmartre, Chez Moune is an absolute gem for night owls seeking an offbeat dancing experience. As you step inside this retro time capsule, be prepared to embrace the wonderfully odd décor that seems to have escaped from a 1960s French film set. The dimly lit ambiance, quirky bathtub seating, and vintage chandeliers create an intimate atmosphere that will make you wonder if you've stumbled into your eccentric aunt's living room party.
Learn more
12. Le Baron
6 Av. Marceau, 75008 Paris, France
Welcome to Le Baron in Paris, a one-of-a-kind nightclub experience that will make you question how many vintage leather sofas one establishment really needs! Nestled in the heart of the city, this quirky club offers an ambiance blending retro chic and grandma's living room, where the dilapidated charm can be mistaken for intentional design. Prepare to dance the night away under chandeliers held together with sheer willpower, and don't forget to ask the bartender for the "Pot Luck Special" cocktail – it's a surprise for everyone, including the staff!
Learn more
How to get there
Plane
The best way to get to Paris by plane is to fly into Charles de Gaulle Airport, which is serviced by most major airlines. There are also direct flights to Orly Airport, which is closer to the city center.
Car
Driving to Paris from London is possible via the Channel Tunnel, but be aware of toll charges along the way. The journey takes around 6 hours depending on traffic.
Train
There are multiple train stations in Paris, but the best way to reach Paris by train would be to take the Eurostar from London St. Pancras International Station to Gare du Nord in Paris.
Boat
While it is technically possible to sail from London to Paris via the River Seine, it is not a practical means of transportation. Instead, consider taking a river cruise from another European city, such as Amsterdam or Budapest, that includes a stop in Paris.
Bus
Taking a bus from London to Paris is a popular option, with the best bus service being Flixbus. The journey takes around 7 hours and the bus will drop you off at Bercy Seine Bus Station in Paris.